Reasons to Invest in your First Home in Muntinlupa
With most of its population seeking work and opportunities, Metro Manila has become one of the busiest areas around the region. With the growing density of people and traffic congestion, it's important to choose a location where you can thrive.  
Situated in the breezy, laid-back Muntinlupa, East Bay Residences is an ideal place for anyone who's looking to claim their first urban home that's close to the heart of the industrial landscape of Metro Manila.
Proximity and Accessibility
When considering a home, one important factor to consider is proximity to work. Muntinlupa connects to multiple cities in Metro Manila with various routes and highways. With many available options for transportation, the means of getting to your desired destination won't be too difficult. 
Residents of Muntinlupa can choose either the South Luzon Expressway (SLEX), C5 and C6 Roads, and the Skyway to ease their commute to busy cities like Makati and Taguig. A quick trip to Cavite is possible via Muntinlupa-Cavite Expressway (MCX). Residents bound to Pasay can also go through SLEX or Skyway. 
Going to the airport from Muntinlupa won't be a problem because the road and routes are well-paved, making them convenient for any resident from the city to arrive on time for their flight. Residents can also have transportation choices from bus to vehicles through car-booking apps or cabs.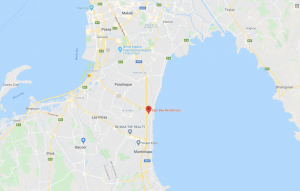 Living in Convenience
Muntinlupa is a good choice for your residence and an ideal location for a lucrative property investment. While the proximity to important places can already provide residents with convenience in traveling from their homes to their workplaces and other locations, residents can also avail of amenities within the community for leisure and recreation.  
Residents and property owners at East Bay Residences can make use of their fitness gym and jogging path for exercise and other wellness activities. There is a swimming pool for refreshing relaxation, with gazebos as a place for bonding moments with friends and family. These are just some of the amenities available for the residents to use and enjoy while living  in East Bay Residences. 
While amenities can greatly benefit the residents, they can also take advantage of the places surrounding the condominium community. Nearby shopping malls are lined with designer shops and other retail  stores. Just a little over the east lies several restaurant communities where you could get a taste of what the relaxed metro life is like. There are several hospitals within close proximity of Muntinlupa which guarantee you and your family a safe and accessible place to go in case of unexpected situations.
A Booming Business District
From being a farming district, Alabang has since grown into a progressive business district. Attracting several foreign and local businesses to set up offices in the locality, Muntinlupa has allowed for the growth of a business district that can compete with its neighboring cities in the metro. As economic development becomes a factor for businesses to grow, investing a home in Muntinlupa means a potential access to employment and entrepreneurial opportunities. This can potentially and positively affect your property's value in the long-term.
A Progressive Green City
As an ideal city for investment, Muntinlupa has been recognized for its local efforts to combat environmental degradation. In spite of being an urban city, Muntinlupa has managed to curb its carbon footprint by implementing measures such as choosing electric public utility vehicles over conventional ones and building green algae farms for research. Long term positive effects will lead to sustainable investment. 
Legislatively, Muntinlupa has taken it upon itself to enforce more green policies not only to reduce its carbon footprint, but also to save the oceans. Muntinlupa was one of the first cities in the country to ban styrofoams and implement strict rules in single use plastic. These laws enforced by the local government encourage its residents to live a greener lifestyle.
The environment is a factor for maintaining a healthy lifestyle. Although cities always aim for progress and innovation, doing so without compromising the quality of the environment will create a safer and healthier community. In Muntinlupa, you won't have to worry about the damaging effects of pollution with the various environmental-friendly initiatives done by the local government and the community. 
To sum it all up, when choosing a location where you'll be staying for a sizeable amount of time, it all boils down to four things: its proximity to work and opportunities, its ability to bring you convenience, its ability to attract more businesses, and that it's future-proofing itself by being a progressive and clean city. 
Purchasing your first home is a life-changing step and choosing a place where you can grow is the best kind of investment you can make not only for yourself, but for your loved ones as well. With those factors considered, Muntinlupa is a good place to live in.
East Bay Residences is a 7.2 hectare tropical respite filled with lush greenery and open space. Unit options range from one-bedroom to three-bedroom condominiums, all equipped with a master floor plan and the essential features in a comfortable home. Young and budding professionals can acquire the one-bedroom unit, while couples can own the two-bedroom and two-bedroom prime. Families can enjoy living together in the three-bedroom unit where the space is enough for the members to share.
With amenities that can cater to anyone, from young professionals to families. It provides the signature Rockwell signature of exclusivity and convenience which provide you with a place to relax even in a busy metro. 
To know more about your Rockwell home in Muntinlupa, go to our contact us page. If you prefer to have a call, feel free to contact us at (0917) 3278 010.